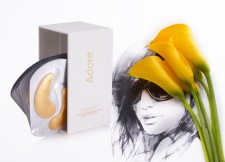 Miami Beach, FL, June 30, 2017 (Newswire.com) - The new Gold Standard for the TV world seems to be Adore Cosmetics — at least where skincare is concerned. 
The TV world is increasingly turning to Adore Cosmetics for its skincare needs. That's especially true for our Golden Touch 24K line, where all of the products include pure 24K gold!
Melissa Joan Hart, the actress known and loved for her role as Sabrina in Sabrina the Teenage Witch, gave the world a glimpse into her pre-photoshoot prep process with a post on Instagram. "Getting my gold on!" she captioned the image of her wearing the Golden Touch 24K Techno-Dermis Eye Mask from Adore Cosmetics.
Jamie Greenberg, celebrity makeup artist, went the route of before and after with her Instagram post featuring comedian and television host Chelsea Handler. The image of Handler getting ready for the day lets the world know that the process includes the Golden Touch 24K Techno-Dermis Eye Mask from Adore. When talking about the product, Greenberg said "The Adore gold eye masks? These work — and they work really well."
Despite the popularity of the eye masks, Adore Cosmetics also has other incredible products available, something Dorit Kemsley — TV personality and Real Housewife of Beverly Hills — has noticed too. "This is the coolest thing ever!" she says in the Instagram Stories video of her trying the Golden Touch Magnetic Facial Mask. She also posted a photo of her wearing the mask on her Instagram.
The secret to great skin care lies in the Adore Cosmetics product line, which uses stem cells harvested from rare organic Swiss Apples to encourage the renewal of your skin's own stem cells. The result is skin that's been restored, renewed, and replenished, as our organic ingredients encourage it to slow down its aging process.
Adore Cosmetics products are top quality and known to offer some of the best anti-aging technologies in the beauty and cosmetic industry.
To try out our products, find discounts at http://adorecosmeticsoffers.com.
And to read our beauty blog, Adore Cosmetics Insights, head to https://adorecosmeticsinsights.com.
About Adore Cosmetics: Adore Cosmetics offers innovations in organic skin care products powered by plant stem cells and other beauty-boosting ingredients. Adore products are designed to promote beauty, help reverse the signs of aging, and restore a youthful glow to the skin by harnessing the power of nature.
Contact:
Arielle Fried    
Adore Cosmetics   
305-627-9370    
Arielle@AdoreCosmetics.com
Source: Adore Cosmetics